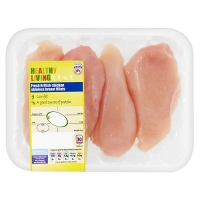 How Much Protein Is In Chicken Breast (Skinless)? 23.5g
If you are a serious about fitness or building muscle then chicken is probably your number one choice for protein.
If you do like to prepare Chicken yourself I strongly recommend that you don't buy it from your local supermarket as the quality isn't as high as many alternatives such as your local butcher or many of the new online fitness food websites. Chicken is high in protein, low in fat and carbohydrates.
Chicken breast has got to be one of the best protein foods that you can eat.
It also contains magnesium, potassium, vitamins A,K,B3 and B6. It is very easy to use cold for salads and snacks, and for hot meals. It is easily digested and after exercise it is a light but very nutritious meal. Of course skinless chicken is better than chicken coated in breadcrumbs or batter so keep away from those fast food places!.
| | |
| --- | --- |
| Chicken Breast (Skinless) | Per 100g |
| Energy (Calories) | 109 kcal |
| Protein | 23.5g |
| Carbohydrate | 0g |
| Sugars | 0g |
| Fats | - |
| Saturates | 0.5g |
| Fibre | - |
| Sodium | 0.1g |
| Salt equivalent | 0.3g |
| Vitamin B2 | - |
| Vitamin B12 | - |
| Calcium | - |
| Phosphorus | - |