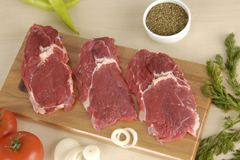 How Much Protein Is In Beef Fillet Steak? 20.9g
Whether you are a sports athlete, passionate muscle builder or just an average Joe you should always try to include red meat into your diet at least once a week. Steak is a great source of red meat and is one of the very best providers of Iron and Protein. Eating steak will help you build muscle and give you lots of energy.
Many body builders take a Creatine supplement to give them more energy for a more intense workout. Creatine is found in red meat such as steak which is why it is especially important for muscle gainers to eat plenty.
Beef steak has one of the highest contents of protein. Beef steak also contains iron, calcium, zinc and potassium. It may not be the easiest of foods to digest, but if eaten regularly for example if you are building muscle, the acids in your stomach will adapt and so digestion will become easier.
Here are the most popular cuts of beef steak.
Filet mignon, better known as medallions or tenderloin steak is the most expensive but the most tender.
The Porterhouse and T-bone are not for the small appetite as the portions are very large.
Rib eye steak is tender but is better cooked in the oven, not grilled.
Rump steak is one of the most common although this can sometimes be a little tough so a bit of care is needed when cooking.
Sirloin steak is more tender than rump steak but be careful when you buy as there are top and bottom "cuts" of which the top is the better one.
| | |
| --- | --- |
| Beef Fillet Steak | Per 100g |
| Energy (Calories) | 155 kcal |
| Protein | 20.9g |
| Carbohydrate | 0g |
| Sugars | 0g |
| Fats | - |
| Saturates | 3.8g |
| Fibre | 0g |
| Sodium | trace |
| Salt equivalent | trace |
| Vitamin B2 | - |
| Vitamin B12 | - |
| Calcium | - |
| Phosphorus | - |